My friend S. called me back in December with a fabulous idea: we should go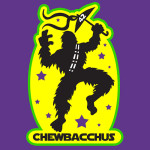 to Mardi Gras and roll with the Intergalactic Krewe of Chewbacchus (IKoC). It really didn't require a lot of thought or persuasion. It's NOLA and costumes. What more do you need?!
I usually hit the early Uptown parades, but had never managed to see Chewbacchus. The internets were rife with tales of ridiculous fun and possible debauchery while worshiping at the altar of the Drunken Wookie. IKoC isn't one of these super secret society affairs with crazy fees and a lineage check; its thousands of geeks coming together to celebrate their favorite fandoms in the streets of New Orleans during Mardi Gras. Chewbacchus rolled with more than 2,500 members this year, making it the largest DIY krewe in history. It's a walking parade and the route is a little less than five miles. From head to tail, the parade itself stretched for nearly two and a half miles.
I paid my $42 dues, signed up to march with the SITH Happens sub-krewe, and we hatched a plan for a Thelma and Louise-esque car trip. I now had two problems: less than three weeks to make a costume and produce a couple of hundred handmade throws. Chewbacchus prides itself on being green (it's a walking parade with only people-powered contraptions; no giant floats being dragged by a tractor) and not leaving behind the sea of cheap plastic beads that choke the sidewalks after some of the traditional parades. With that in mind, IKoC members are encouraged to produce handcrafted items which are handed, not thrown, at the crowds along the route.  The traditional IKoC throw are bando blocks; just like our favorite Wookie's, but more decorative. People wishing to collect these specialized throws, create velcro bandoliers to signal their interest.
Project Plan
Since I'd just made my (literally) grey Jedi for the Bar War/SW:TFA marathon outing, I decided to take the path of least resistance and use the same pattern to create a set of SITH robes. From discussions with other members, I also learned I'd need at least 300 throws; the more, the better. I knew I wanted to make the bando blocks, so after a bunch research (there's even a separate group just to discuss crafting for the parade) I decided to use Star Wars-themed punch cookie cutters to press out Sculpey shapes to affix to black foamcore bases. I'd also cast a bunch of helmets and other SW objects using PermaStone. To up my counts, I also commandeered several tubes of mini-glowsticks leftover from Halloween, which with a bit of duct tape and Sharpie could be transformed into mini-lightsabers.
Unscheduled build due in less than three weeks plus 350 "props" that have to carried for miles on my person? Yeah, I got this…I think.
What Actually Happened/Lessons Learned
I had originally planned a more complex Sith Inquisitor build with some armored bits, but realized the throw production was going to be a timesuck. I cut back to basic robes, but was very satisfied with what I ended up with. At the last minute, I bought two .99 bright red quilting squares to create a fake collar/dickey and add a base to my belt. The added color really leveled-up the whole look. Although it doesn't photograph particularly well, the tunic and leggings both have color-on-color textures, which make them appear much richer in person.
The only real rules of SITH Happens is that your must carry an ignitable, non-toy saber and pay your dues. I ordered an express checkout "pick your hilt and go" stunt blade from Ultra Sabers. I ordered on January 5 and sprung for FedEx 2 Day shipping. I arrived about 10 days later.
I hadn't worked with Sculpey in a while (read: more than a decade) and didn't realize it now came in so many different varieties. I went to a big box store and used their weekly coupon to get their largest box.  I suspect some of the stiffer variants would have worked better for this project, but I made do with what I had. The first couple of presses were pretty bad, until I started dipping the cutters in water. Water = Sculpey Mold Release.
The detail on the Falcon was too complex to be identifiable without more paint time than I was able to commit, so I stamped only a handful for actual use. Yoda looked like a demon baby and also did not make the cut.
The depth of the  cut pieces varied and it took me a couple of batches to work out an optimal bake time which allowed the entire batch to fully cure, while not over heating others. The entire cut/bake process took about five hours for 300+ pieces.
Paint tests and the internet are your friend. Right before I hit them all with a rattle can, I check the internet (your best friend in cosplay) and discovered most aerosols will never completely dry due to chemical reactions, leaving you with a permanently sticky not-finish. I used acrylics, which added several more hours than I had planned. The acrylics worked well and I used some dry brushing to highlight. To add some Mardi Gras pop, I added sequins, glitter and some metallic Sharpie highlighting. The Vader and Han Solo in Carbonite throws were mounted on an additional piece of sticky-backed glitter foam; I considered them my premium offerings. I used a metallic sharpie to add some commemorative script to the Hans.
The silicone molds used for casting the helmets and other objects were cheap, Chinese knock offs. When they arrived, it was very obvious that some details were too shallow or missing all together. Granted these were food molds, but for even the recommended chocolate, gelatin or ice, I wouldn't have found them acceptable for the price. The fangs on the Mandalorin symbol and R2D2's feet were too shallow and broke off every time I demolded. The helmets and X-wings came out great, but were fairly heavy. In the end, I decided against using them as throws, but did pass/trade a few. See me at a con? Ask for one.
I once again broke the No-Room-Builds rule and constructed a 100 mini sabers in between outings to some of the day parades. They were awesome … and got left in an Uber when I had to ask my driver to stop at a CVS because I got a call saying my krewe's Holocron contraption had a flat.
One of my Chewie's got some love from YouTube celeb Novel Reality!
The Chewluminati are real.
Build Gallery